series needs to be urgently examined: Yashwant Sinha
At 81, there is no ambition to hold any ministerial post or position in the BJP government; the sole reason that prompted him to turn into a critic and part ways with the party was his disagreement with Narendra Modi's back-to-back flawed economic policies that has put the nation on the back foot, said former finance minister and senior BJP leader, Yashwant Sinha in an exclusive interaction with Firstpost. His book, India Unmade: How Narendra Modi Broke the Economy written with Aditya Sinha was released recently.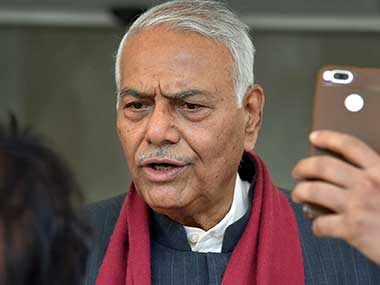 File photo of Yashwant Sinha. PTI
"Believe me, there is nothing personal between me and them (the party leadership). I decided to quit and take my criticism public only when the Modi government forced flawed economic policies on the people of this country and did not care to listen to advice," said Sinha.
Sinha said he decided to write the book at this point to tell the 'truth' to the people before they walk into poll booths during the 2019 elections. "The truth needs to be told.," said the former finance minister in a telephonic interview. "There was no option but to publicly voice my criticism to speak up on the Modi-government's wrong policies. It was then that I decided to write an article 'I need to speak up now' in September 2017 in the Indian Express newspaper, Sinha said. "That was the first time. But even after that the Modi government refused to listen and continued with its flawed policies, " Sinha said.
Sponsored by MGIDThe Actual Cost Of Health Insurance In Jaipur May Surprise You
The space for constructive criticism has narrowed in the present context. Critics of the government are being dubbed as anti-nationals, anti-Modi, so on, said Sinha.
Referring to the recently introduced GDP back series and the claims about employment figures using EPFO-data, Sinha said the Modi government is manipulating data to mislead the country. "The data is being manipulated so that the Prime Minister can give a speech in Parliament. The GDP back series needs to be examined urgently," Sinha said. On 28 November, the Modi-government released GDP back series data that showed lower growth in UPA-years. The move was criticised for the accuracy of the numbers and the way NITI Aayog dominated the back series launch.
Analysts pointed out that the new data back series failed to correlate with important, multiple high-frequency growth indicators during their respective periods. Sinha questioned the government on its claims of employment growth using the EPFO-figures saying it didn't represent a true picture. "There is massive unemployment and we are seeing it. There used to be Labour bureau surveys that used to study employment trends